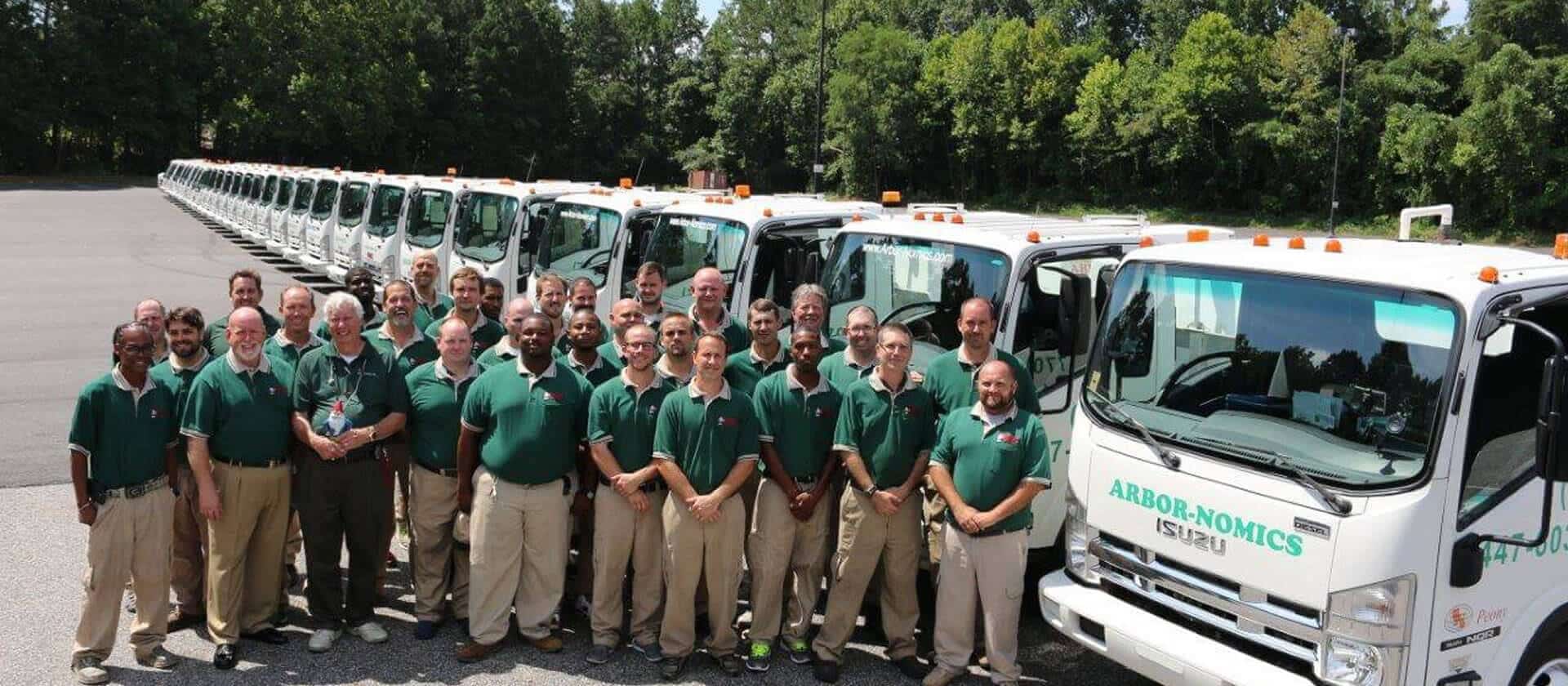 Lawn Care in Brookhaven, Ga
Have you been putting your lawn service on the backburner for years? Then it's time to get your lawn back under control. Let the team at Arbor-Nomics help you restore the beauty and health of your grass with our dependable Brookhaven lawn services. Our certified technicians are proud to offer high quality lawn care in Brookhaven, Georgia and surrounding metro Atlanta area neighborhoods. If you have been searching online for "lawn care near me", then there's no reason to keep struggling. Instead, contact the friendly, knowledgeable staff at Arbor-Nomics today at 770-447-6037, and find out what we can do to help you reach your goals.
Common Lawn Problems
Homeowners often struggle with a wide range of lawn care issues. Some of the most frequent include dying grass due to grub infestation with unsightly patchy spots. Others may be frustrated and give up with the out of control weeds. Some families may have dogs or an overabundant insect population and are forced to deal with frequent damage from pets or pests. Certain properties also have a problem with widespread fungal diseases or soil nutrient imbalances which causes dying or thinning grass. Thankfully, all these problems can be greatly minimized with the help of a professional lawn service.
How Can Professional Brookhaven Lawn Services Help Solve These Issues?
Our qualified technicians have the training and education needed to properly address a large variety of lawn care problems. Using advanced fertilizers, pesticides and fungicides, our lawn care experts can help reduce many common issues. We offer seasonal treatments, weed control, outdoor pest control and more to create the optimal environment for promoting healthy grass. The team at Arbor-Nomics can help your Bermuda, Fescue or Zoysia lawn become the most showstopping in the neighborhood. We will discuss your needs one on one and develop a customized lawn care plan that is designed to nourish and sustain your grass for years to come.
Brookhaven Lawn Services
Reasons to Hire Our Technicians for Your Lawn Care in Brookhaven, Georgia
The reliable professionals at Arbor-Nomics work hard to deliver incredible customer satisfaction for every service we provide. Our team has dedicated many years to helping local Brookhaven and metro Atlanta area residents achieve the lawn of their dreams. Thanks to our focus on client needs, we are pleased to have received multiple service awards from Best of Gwinnet. Our company has also consistently achieved an A+ rating with the Better Business Bureau.
Do You Need a Reliable Lawn Service in Brookhaven, GA? Call Arbor-Nomics
Have you grown weary of typing "lawn care near me" into your web browser? Then get the help you need by calling the experts at Arbor-Nomics. We offer premium Brookhaven lawn services for local property owners. Whether you're dealing with dying grass, wild weeds or pesky insects, our technicians are ready to put their tools and specialized skills to work for you. Contact our office to learn more about our wide range of services or to schedule a convenient appointment for your lawn care in Brookhaven, Georgia or a nearby community.
Reviews for Brookhaven, GA

Overall Experience:

5
/5 –
Lawn Service Brookhaven
Rusty Willis
We worked for years on our yard and what Arbor-Nomics has done in just a few short months has made all the difference in the world. The yard has never looked better and all our plant seem to be happy. Before every visit we get an email letting us know when the yard will be treated and they leave a little sign to let us know it's happened. Thanks to Arbor-Nomics we're on our way to "yard of the month!"