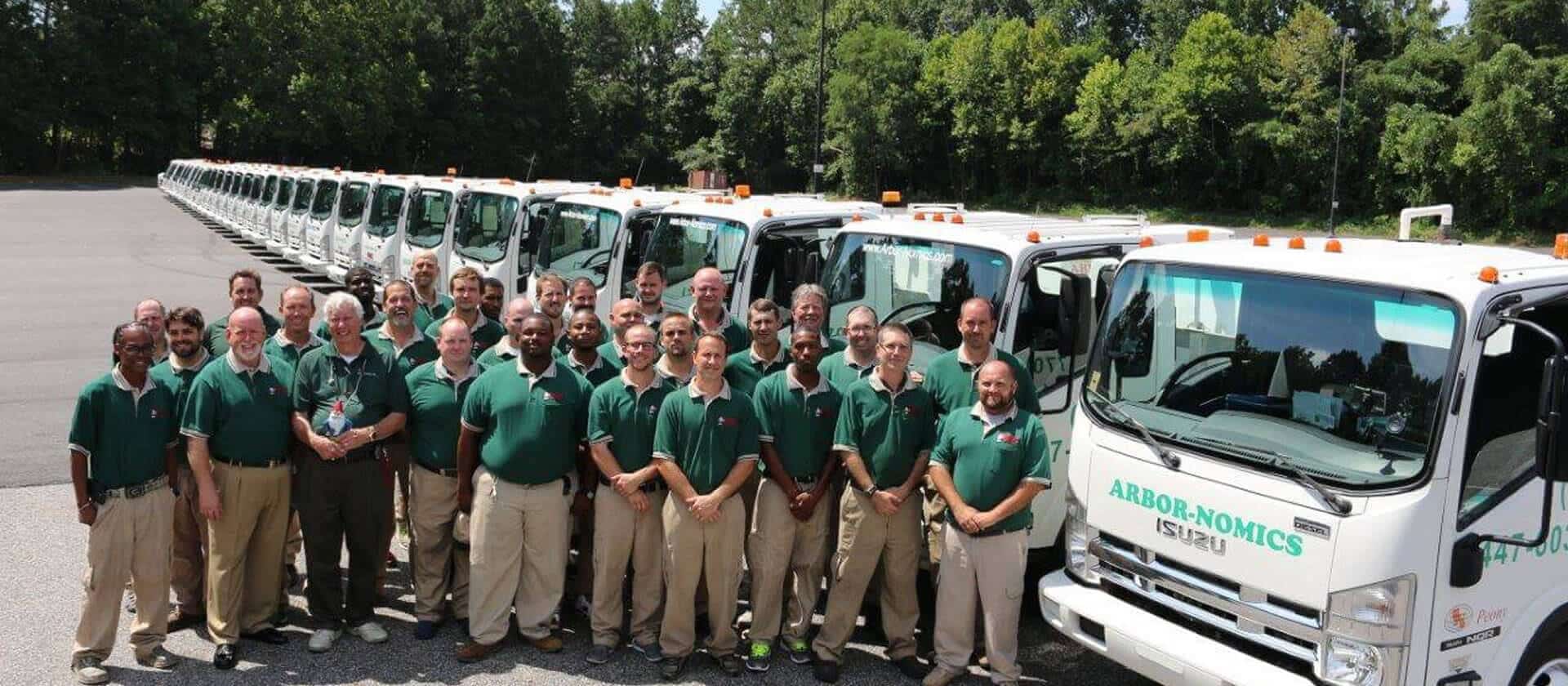 Lawn Care in Alpharetta, GA
Are you tired of struggling with your lawn? Whether you're dealing with dry, patchy grass or a thriving mosquito population, the experts at Arbor-Nomics are ready to lend a hand. Our certified technicians are proud to offer reliable lawn care in Alpharetta, Georgia and surrounding communities. If you've been searching the internet for professional "lawn care near me", then you have found the best solution. Contact our lawn service experts at 770-447-6037 today and find out how our Alpharetta lawn services can help.
Improve the Beauty of Your Home with Professional Lawn Care in Alpharetta
Investing in quality lawn service on a regular basis will help to improve the condition of your lawn, and instantly upgrade your home's curb appeal. Our dedicated technicians are excited to provide premium lawn fertilization, ornamental tree and shrub care, aeration, Fescue overseeding, weed control treatments and more, so that you can have the lushest landscape on the block. Find out how we can keep your lawn looking it's best all year long with our seven treatment lawn care program.
Treat Fungus with Our Reliable Alpharetta Lawn Services
Has your lawn succumbed to the destructive force of fungal issues? Fungus related problems can develop quickly in the warm Atlanta area climate, especially between the months of April and September. Pythium Blight, Zoysia patch, brown patch, dollar spot and other common lawn diseases can be solved with proper application of fungicide treatments. Let our experts utilize their knowledge and experience to help revive the health and beauty of your grass.
Alpharetta Lawn Services
Reduce Pest and Insect Populations
Grubs and Army Worms can quickly destroy an otherwise healthy lawn, thanks to their hungry larvae making a meal of your grass roots. Other insect like Aphids can wreak havoc on your ornamental plants and flower garden. Pests like fire ants, mosquitos, fleas and ticks can also make using your outdoor space dangerous and uncomfortable. We want to help make your lawn and outdoor entertainment areas safe and inviting again. Whether you're dealing with an invasive species that is hindering your landscaping efforts, or have developed a problem with stinging insects, our team will help your lawn get back on track quickly. We provide reliable outdoor pest control so you and your family can enjoy the sunshine again.
Are You Looking Online for Quality "Lawn Care Near Me"? Call Arbor-Nomics Today
Is it time for you to invest in professional Alpharetta lawn services? Then call the certified technicians at Arbor-Nomics. Whether you need help aerating and over-seeding, have a pesky fungal or weed control issue or need to rid yourself of harmful insects, our technicians are ready to put their skills to work for your Alpharetta home. Our friendly, knowledgeable team can help you create the property of your dreams with a lawn service that is perfectly customized to your unique needs. Contact our office to learn more about our large variety of services or to schedule an appointment for professional lawn care in Alpharetta, Georgia or a nearby metro Atlanta area neighborhood.
Reviews for Alpharetta, GA

Overall Experience:

5
/5 –
Lawn Service Alpharetta
Berkeley E Boone
I'm very pleased with the services we've received so far. We've had the same representative since our second application. He's always willing to explain what's being applied, etc. He also stopped by to apply some specific weed application [with good results], and there was no additional charge.